ZAMBIA
Motorcycle Safari:
ALONG THE ZAMBEZI
Lodging & Camping
Country: Zambia
Name: Motorcycle Tour: Along the Zambezi
Type: Camping & Lodging
Destinations: Lower Zambezi National Park, Lake Kariba, Victoria Falls, Mosi-oa-Tunya National Park, Chobe National Park
Days: 9 days
Rates: On Request
Running: 01 June to 01 November
This tour will make you live a wonderful motorcycle experience in Zambia, unique and unforgettable, in a Country that is still barely touched by international tourism. A trail that combines the joy of a motorcycle tour and the emotions of game viewing in Zambian national parks.
Part of this unique motorcycle tour involves some of the most iconic landmarks of Zambia, along breath-taking roads, discovering characteristic villages, natural beauties (Victoria Falls) and some of the most fascinating National Parks in the region:  Lower Zambezi National Park, Mosi-o-Tunya National Park and Chobe National Park in Botswana where we will conduct Game drives on board of our specially modified 4×4 support vehicles.
The tour includes Game drives, boat and canoeing safaris in Lower Zambezi National Park, Game Drives i Chobe National Park and Walking Safari in Mosi-o-Tunya National Park as well as a visit of the Victoria Falls, one of the 7 natural wonders of the world.
Nights are spent camping in Lower Zambezi National Park (Camping will be done in appropriate areas with ablution blocks and warm showers) while all meals are prepared by the accompanying chef. Both in Livingstone, Lusaka and Kariba we will be lodging in good level accommodations.
Motorcycles and assistance included in the organization:
We will be using our "Big five" motorcycles, reliable Honda Transalp 600cc completely refurbished and properly equipped for on- and off-road stretches.
The group will be led by a motorcycle-riding professional guide and will be followed by a 4×4 support vehicle that will offer assistance, carry all luggage and camping gear, as well as motorcycle passengers who might decide to "take it easy" for a day or two.
The tour can either Start in Lusaka and end in Livingstone or the other way around, based on the location of the Bikes.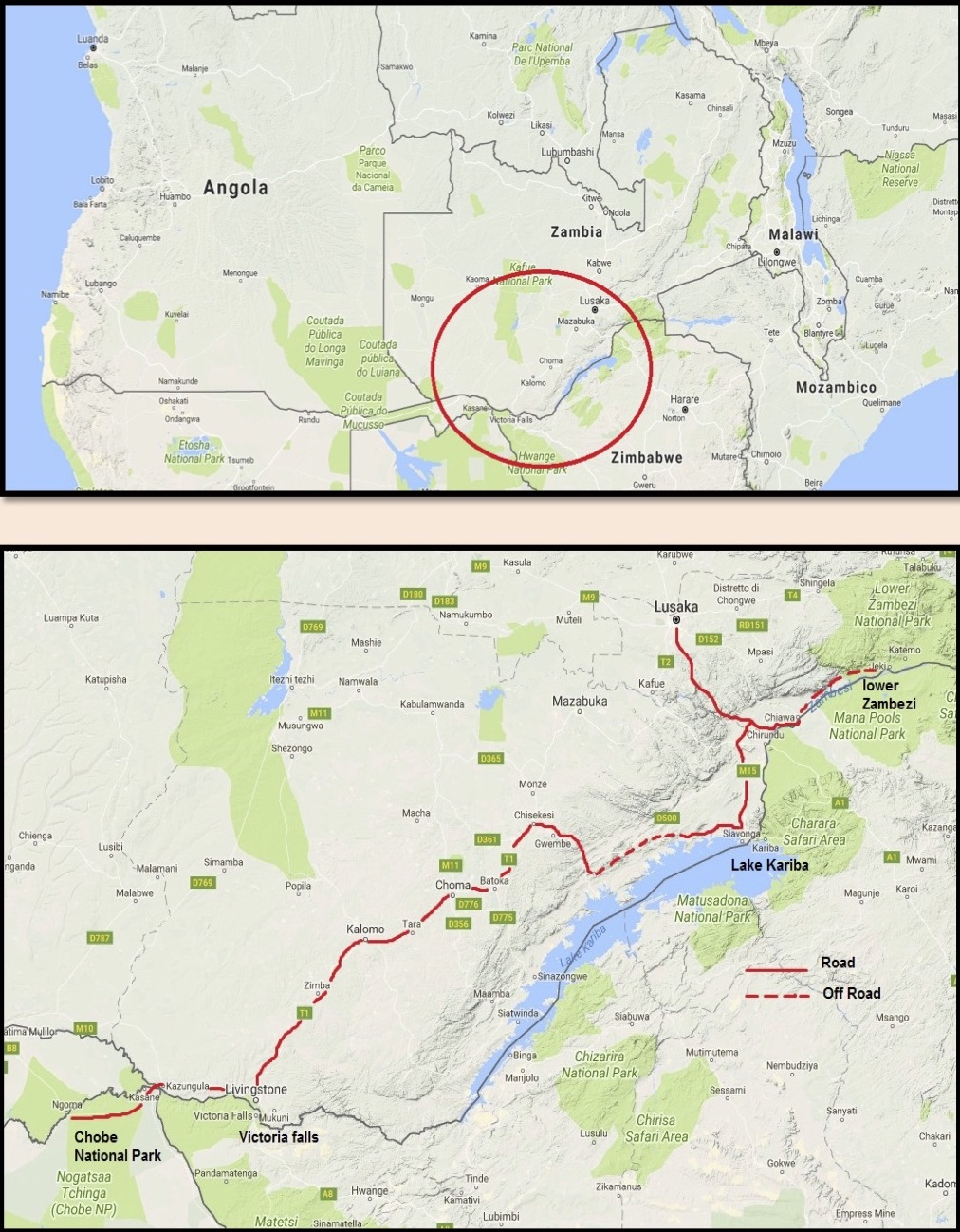 Day 1: Lusaka
Upon arrival at Lusaka international airport, you will be assisted in final preparations (local SIM card, forex, etc.) before your Safari starts. Transfer to a good level lodge. Check-in and delivery of the motorcycles. Time available for relaxing. Dinner not included.
-/-/-
Day 2: Lower Zambezi Valley
Breakfast at the lodge. Immediately after breakfast we will start off for the first stretch of the journey on a tarmac road that winds up the Munali hills and descends on the Lower Zambezi Valley (approximately 140km – all tarmac). The road ends in Chirundu, and from there we will continue for a few tens of kilometres on gravel and dust road to the Chiawa Game Management Area, crossing Chiawa village and reaching Kiambi Safari Lodge. Set up of the camp and lunch prepared by the accompanying chef. in the afternoon, sunset cruise on the river. Dinner prepared by our accompanying chef on the campfire and night camping
B/L/D
Day 3: Lower Zambezi Valley
After breakfast, disassembling of the camp and departure for a 50km off-road stretch to the heart of the Chiawa Game Management Area visiting the numerous villages that we will come across along the way. Upon arrival, lunch and setting up of the camp. Afternoon relax, dinner around the fire and night camping
B/L/D
Day 4: Lower Zambezi National Park
Wake up and sunrise breakfast. Departure for a full-day game drive in the Lower Zambezi National Park on board of our support vehicle, with pic-nic lunch inside the park. Return to the lodge by sunset and dinner prepared by our accompanying chef. Night camping.
B/L/D
Day 5: Sivaonga – Lake Kariba – Kariba Dam
Wake up at sunrise and breakfast. Dismantling of the camp and return journey to Chirundu, riding for approximately 60km on dust, rock and gravel roads through the villages of the Chiawa GMA. From here, we will branch off to reach Siavonga, riding on a tarmac road that winds in the mountains and descends on Lake Kariba. Accommodation in a good level lodge and lunch. In the afternoon, guided tour of the Kariba Dam and return to lodge for dinner. Night lodging
B/-/-
Day 6: Livingstone
Breakfast, followed by a long motorcycle ride to Livingstone. The road is mainly tarred for the first 150km, followed by a gravel mountain pass, before connecting again to the Tarmac road reaching Livingstone. We will stop for lunch in Choma and continue to Livingstone in the afternoon. Accommodation in a central located guesthouse
B/-/-
Day 7: Livingstone – Batoka Gorge –Victoria Falls – Mosi-oa-Tunya N.P.
In the morning we will ride to the Victoria Falls for a guided tour of the Falls on the Zambian side. At the end on the tour, we will ride a gravel and dust stretch through the villages to reach a spectacular viewpoint on the Batoka gorge to have lunch in a lodge.
Return to Livingstone after lunch and Rhino Game drive in the Mosi-oa-Tunya National Park where we will try to spot some of the last remaining white rhinos in Zambia. Dinner not included and night in the lodge
B/-/-
Day 8 : Chobe National Park
We will leave the motorcycle at the lodge for the last activity of this tour. Departure at 06.45 to reach Kazungula (Botswana border) for a full day Chobe Safari. After crossing the border, we will enjoy a boat cruise on the Chobe River and a Game drive in the park. Lunch is included in Kasane. At the end of the day, we will return to Livingstone, for a farewell dinner
B/L/-
Day 9: End of the Tour
Breakfast and return of the motorcycles. Airport transfer in time for your international flight. End of arrangements
B/-/-
• All accommodations detailed in the program
• All meals detailed in the program
• Vehicles, fuel, driver, cook and certified guide
• All camping gear (excluding towels and pillows)
• All Park entry fees
• All game viewing activities detailed in the program
• International flights
• Alcoholic beverages
• Visas
• Activities not done by African View Tours and Safaris and not included in the program
• Travel insurances
• Personal expenses
• Gratuities
• Anything not specified under "inclusions"